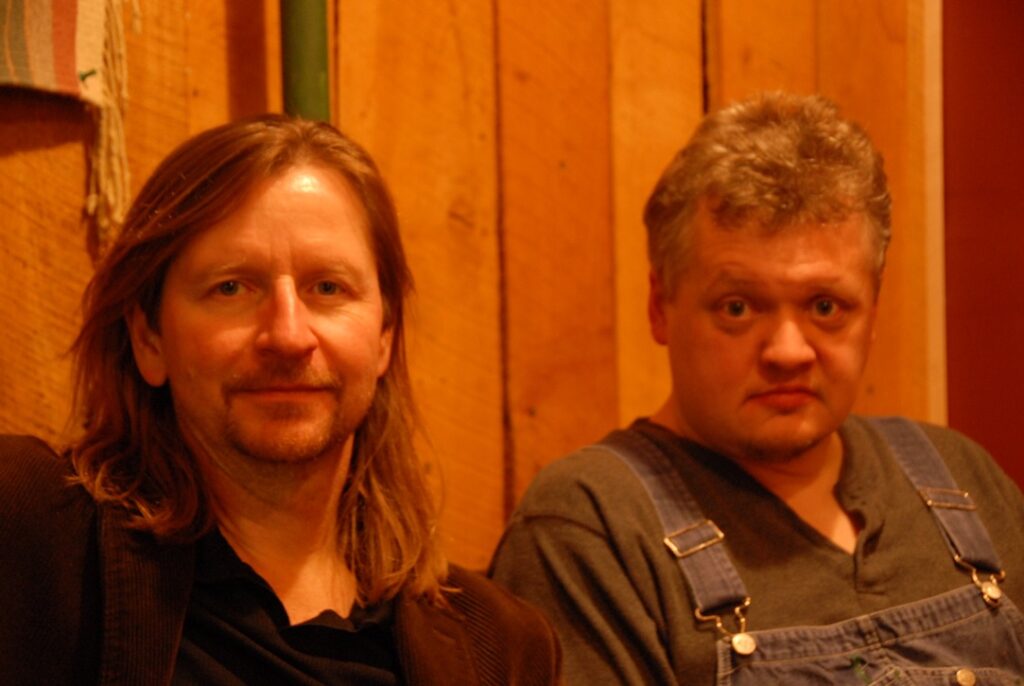 There are many video clips of Gordon and Jim on Jim's YouTube Channel.
Visit Gordon Bonham's Website.
When Gordon Bonham (guitar/vocals) and Jim Richter (mandolin) perform, they journey into the musical past where blues and old-time country cross-paths and, at times, are indistinguishable from the other. Their repertoire pulls from Mississippi Fred McDowell, Yank Rachell, Sleepy John Estes, the Mississippi Sheiks, Leroy Carr, Doc Watson, old time fiddle tunes, and even contemporary musicians such as Steve Winwood or Gordon's original songs.
Gordon and Jim have a unique relationship in that they performed with each other on and off for close to a decade in electric blues situations (with Jim on electric guitar). Gordon had also (and still is) been a very successful solo acoustic blues musician for years. When Jim returned to playing acoustic/music (he had been a bluegrass musician throughout his teens), it was only natural for Gordon and Jim to pursue their next musical endeavor: treading that soil where blues and old-time country meet. Given that these two had often played along side each other for several years, their performances and music display a deep connection easily perceivable by their audience. Their style of acoustic blues/old-time country is unique in this, as well as their choice of instrumentation and repertoire.
Gordon and Jim as a unit have performed at several notable locations including the Slippery Noodle Inn (Indianapolis), the Crazy Horse (Bloomington), and the Bluebird (Bloomington), as well as several events such as CornStock (Shelbyville) and Bloomington Parks and Rec. Summer Series.
Gordon continues to perform with the widely-popular Gordon Bonham Blues Band, as well as supergroup Soul Bus (w/ Jes Richmond and Tad Robinson). Gordon has performed with Yank Rachell, Bo Diddley, Gary Primich, Jimmy Walker, John Brim, and many other notable blues artists.
Jim has performed with regional blues band The Forecasters and recorded one well-received album "Too Damn Cold" with them. Jim has designed and webmastered many websites, including Grammy-winners Mike Compton (www.mikecompton.net) and David Grier (www.davidgrier.com). Jim's current activities include teaching mandolin and banjo, as well as doing more in depth study of blues mandolin.
Together Jim and Gordon have recorded one video-DVD, Hootenanny!. Filmed at the Crazy Horse Pub in Bloomington in 2003, this DVD has been well received, especially among the mandolin community, with DVDs selling as far away as Germany, Australia, and France.
Additionally, 2008 proved especially rewarding as Gordon and Jim submitted one cut to the Yank Rachell Tribute CD, which benefits Yank's surviving family (especially his granddaughter, Sheena, who is ill). This cut, Sleepy John Estes' "Brownsville Blues", appeared among cuts from John Sebastian, Mike Seeger, Peter Rowan, Tim O'Brien, Rich DelGrosso, David Grisman, Bert Deivert, and many others.