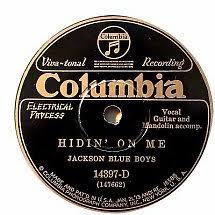 Another incredible tune from one of the Mississippi Sheiks configurations, this time under the Jackson Blue Boys. Recorded December 1928 in New Orleans, Charlie McCoy is on mandolin/vocals, along with Walter Vinson on guitar/vocals and Bo Chatmon on lead vocal. The side was recorded on Columbia under number 14397-D. This same session produced "Sweet Alberta," a reworking of "Corrine, Corrina" recorded by the three at a separate session in New Orleans the previous month.
To me, McCoy is one of the quintessential blues mandolinists for creating a part to accompanying a vocalist. He finds a theme and sticks to it. They are chromatic, often thinking through how to connect chords in some fun, bouncy way. Hidin' on Me is such an example. Set up like a "New River Train" type song where the chorus is really the first 8 bars of the line, it's a wonderful and prototypical pre-war blues tune focused on desire, sex, and infidelity. McCoy's mandolin accompaniment is light, thoughtful, and adds to the lilt of this singalong.
Transcription is available to Tab Members.