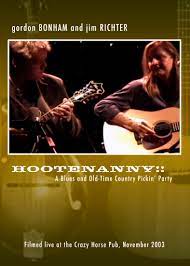 For all Patreon Patrons at any level, you get access to a movie Gordon Bonham and I made for DVD 20 years ago.
This concert film was filmed in 2003 at the Crazy Horse Pub in Bloomington, Indiana.  Featuring Jim Richter and Gordon Bonham, music runs the gamut from blues to old time country.  The concert is loose, fun, and embraces the fun that would be a part of any Hootenanny.
Songs include:
Sitting on Top of the World
Aberdeen Mississippi Blues
Take Me Back
Nine Pound Hammer
How Long Blues
Texas Gales
and many others!