Description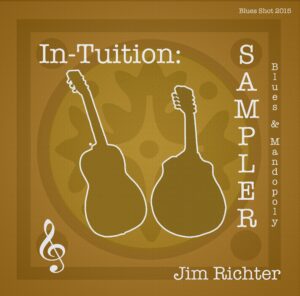 Given that many individuals still like CDs (as opposed to purely digital options like my albums Blues and Mandopoly), I offer a CD sampler of the best cuts from both albums.  This project originally attempted to fund my doctoral work in counseling psychology.
With a noticeably blues orientation, the CD features my song-smithing along w/ choice covers of Janis Joplin, George Harrison, and Amos Milburn.  Original tunes genre-jump from west coast jump blues, Chicago blues, Memphis blues, classic rock, blues rock, Dawg, and bluegrass.
The guest artists on the album include Grammy-winner and mandolinist Mike Compton, blues guitarist/singer Gordon Bonham, guitarist/singer Phil Richter, harmonica player Tom Harold, drummer J.J. Perry, guitarist Will Scott, drummer Bennett Williams, saxist Joe Donnelly, and bassist Scott Kellogg.  Yours truly contributes mandolin, octave mandolin, electric guitar, baritone uke, electric and double basses, and cello.
The CD is available for $15 shipping included in the U.S.
Contents:
1. El Gallo Supremo (Richter): all instruments
2. How Long Blues (p.d., arr.Bonham): Gordon Bonham, guitar/vox
3. One for Butch Baldassari (Richter): all instruments
4. Viper Mood (Richter): Scott Kellogg, bass; Bennett Williams, drums
5. Cleona (Richter): all instruments
6. Pine Grove Furnace (Richter): Will Kimble, guitar
7. C.C. Rider (p.d., arr. Bonham): Gordon Bonham, guitar/vox
8. Elmore Meets Bill (Richter): Mike Compton, 2nd mandolin
9. I'm Tired (Richter): J.J. Perry, drums; Will Scott, slide guitar
10. Violet City Waltz (Richter): Will Kimble, guitar
11. Big Haired Woman (Richter): all instruments
12. Blues for Gary Primich (Richter): all instruments
13. Chicken Shack Boogie (Milburn/Collum): Scott Kellogg, bass; Bennett Williams, drums; Joe Donnelly, sax
14. The 138 Rag (Richter): all instruments
15. Meeting at Owensboro (Richter): all instruments
16. Move Over (Joplin): Richter: lead guitar; band: Wicked Messenger
17. New Kimble Waltz (Richter): all instruments
18. Third Stone from the Sun (Hendrix): all instruments
19. The Girl I Love Go Long Curly Hair (p.d., arr. Bonham): Gordon Bonham, guitar/vox
20. Viper Mood (Richter): Tom Harold, harmonica
21. Sorry Again (Richter): Richter, lead guitar; band: Wicked Messenger
22. While My Guitar Gently Weeps (Harrison): Phil Richter, guitar/vox
This is a sampler of two albums from the In-Tuition series: Blues & Mandopoly– both available as digital downloads at Amazon & iTunes
Executive Producer: Jim Richter, David Richter
Producer: Pembroke Moreland
Engineer: Jim Richter, Pembroke Moreland, Erik Messal
Thanks: Will Kimble, Scott Tichenor, Phil Richter, my wonderful wife & kids
www.jimrichter.com copyright 2013